ROB GRAVELLE – ROCK HARD ITALY INTERVIEW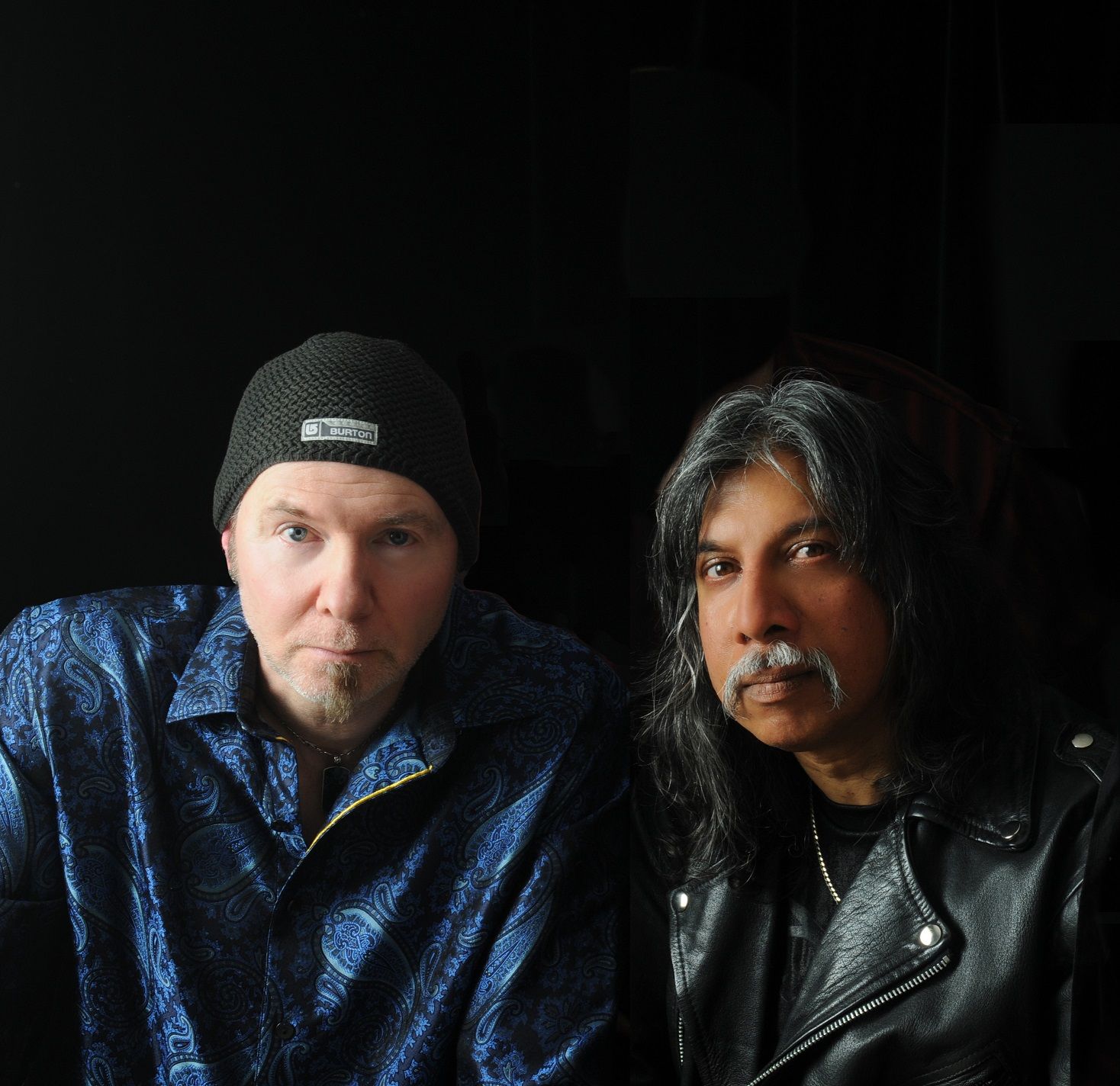 Rob & John were interviewed by Gunnar Hagel Olsen for the January, 2022, edition of Hard Rock Italy Magazine.
* * * * * 
Hi Rob and John! Welcome on our pages! 
ROB: Great to be here. I believe that this is our first appearance in ROCK HARD ITALY! 
JOHN: Thanks for having us, Michele. It's an honour to be here! 
First of all, could you start telling us something about your artistic background, main influences and past experiences? 
ROB: I'm from Ottawa, Canada.  Played in a few bands and projects over the years, with most of them involving my old friend and partner in crime, John Perinbam.  Ivory Knight has been a central part of our lives for many years now. 
Fun trivia fact: John Ricci of Exciter taught me my first scales on guitar when I was a teenager. After that, I decided that, to be a "serious" musician, I should study music in University. So I did, for four years.  There, I learned important things like theory, Medieval notation, and the fundamentals of African drumming.  Surprisingly, the curriculum included no business training whatsoever.  I suppose that the theory did help me win a couple of arguments with band mates. 
My main influences on guitar include Yngwie Malmsteen, Randy Rhoads, Jake E Lee, James Hetfield, Rik Emmett, Alex Lifeson, Ian Chichton, Marty Friedman, John Petrucci, EVH, and the classical master, John Williams.  My favorite bands are Rush, Saga, Maiden, Priest, Metallica, Megadeth, Dream Theater, as well as Swedish bands Ghost and Avatar. 
JOHN: I've been singing as far back as I can remember - my late father said he remembered me singing in the crib! I don't remember that, but I do remember singing along to The Beatles probably around age 4 or so. Let's not go into what year that was LOL! I also remember writing my own songs even at a very young age and, with my siblings and some friends, playing 'concerts' in front of my family. 
My first 'real' band (that performed publicly) was called Trojan Hammer, and the guitarist was Jeff Waters, who went on to fame as the mastermind behind Canadian thrash legends Annihilator. Shortly after Trojan Hammer broke up I formed Ivory Knight (with drummer Paul Malek, who had played on the early Annihilator demos).  We released a well-received cassette demo called Voice In Your Nightmare and a couple of other, less known demos. When the guitar player left, we auditioned many guitarists before finding Rob via a 'musicians wanted' ad we had placed in the local newspaper. 
With Ivory Knight we released 3 critically-acclaimed CDs - Up From The Ashes (2001), Unconscience (2004), and most recently, Unity (2018).  Ivory Knight appeared in the Brave Words and Bloody Knuckles article "O Canada, Our Home and Metal Land! The List - Great White Metal A-Z;" in issue #92, among greats such as Rush, Saga, Voivod, Annihilator, Exciter, and Anvil! Additionally we've played a ton of shows, some in premier venues. 
In 2009 or so, I released a CD called Knightfall, which was produced, engineered, and mixed by Jeff Waters. Rob plays most of the guitar solos and co-wrote (with Jeff and myself) much of the album. 
Besides singing I play bass, guitar, drums, and piano / keyboards. I also create and release my own music (more info: johnperinbam.com) and am the frontman of (Ottawa's) Enforcer. 
Some of my influences include The Beatles, Rainbow, Blue Oyster Cult, Black Sabbath, Judas Priest, Gentle Giant, King Crimson, and others. Vocal influences include Dusty Springfield, Derek Shulman, Ian Gillan, Rob Halford, Ronnie James Dio etc. although I don't sound like any of them! Bass influences include Joe Bouchard (Blue Oyster Cult), Roger Glover, Geezer Butler etc. 
Beside of your activity with the Ivory Knight band, you are actually involved in your solo project: what does it mean to you? I can imagine it's the perfect way to explore new artistic horizons: could you describe your emotions and feelings? 
ROB: I started my solo project around 2009.  There were a couple of classic rock songs that I wanted to cover in a more Metal style. The first song I did was Synchronicity II by the Police.  It was so much fun that I couldn't stop!  I also learned that there's a big market for innovative covers. 
JOHN: Actually, the COVID-19 situation here in Ottawa made it impossible to rehearse with a full band for over a year. During that time, in order to keep active as musicians, working in isolation in our individual home studios became a necessity. So that's what we did - I released my rock ballad Picture on The Wall in late 2020, then Rob kept me busy with the covers of Suspended Animation, Private Life, and most recently Mouse in a Maze. 
Absolutely, the cover songs are a great opportunity to use (and challenge) my voice in ways that would not normally present themselves in the context of Ivory Knight (where I create all the melodies). 
You often challenge yourself with cover versions of famous songs (or forgotten gems!): how do you select the artists or the songs to reinvent? 
ROB: In the beginning I just covered songs which I personally liked and felt that I could put my stamp on.  Now that I've made a bit of a name for myself doing this, I do feel a bit of pressure to choose songs that people would be familiar with.  Having said that, I've got some very eclectic selections in the works!  
How do you usually work on it, in order to express your own perspective and give new life to the songs? 
ROB: Rob Gravelle songs follow a very different process than say Ivory Knight originals.  Whereas a lot of that would be done in a studio, I record, mix, and even master everything in my home studio.  
It used to be that I would just get inspired to record a certain song, but nowadays I'm getting a lot of requests.  Once I decide on a song, I start to lay down some rough drum arrangements using Addictive Drums.  Then I put down the rhythm guitars.  
Once the song is ready for mixing, I send John the track for critiquing.  It will usually go back and forth for weeks or months until we're both happy with it. 
JOHN: Rob sends me a recording of the musical arrangement, of course without my parts. For the cover songs, besides learning the song structure and melody, I deliberately don't listen much to the original, apart from studying the lyrics. Instead, I just let the new music guide me as I compose and record my bass. Once the bass is done,  I record my vocals, letting the emotions of the lyrics and the feel of the music guide my choices of vocal intensities and colours as well as the placement of harmony / backing vocals. It's a bit hard to explain on paper, and this is going to sound like a cliche, but really, it's like the music itself takes on a life of its own - it tells me what it wants from me! 
You prefer to realize digital singles, instead of physical CDs: what's the reason of this choice? Is it a way to put emphasis on the technology or a critical point of view versus the music industry and their rules? 
ROB: Back in the old days, albums were only about forty minutes long on vinyl. CDs kind of forced artists to churn out twelve songs at a time.  I found that whole experience to be quite taxing.  Releasing tracks as they are completed allows me to put all of my effort into the song that I'm focussed on. Not to mention, it also lets me give my fans music every couple of months instead of every few years. 
JOHN: Nowadays for unsigned artists it's becoming increasingly difficult to market physical product outside of live performances. For example, CD Baby is no longer selling physical CDs on its own web site. Also, the single format allows us to release on a more frequent basis and can better accommodate and highlight other collaborators. 
How do you select the artists involved in your solo career? What are you usually searching for, when you ask them to cooperate with you? 
ROB: Very early in the recording process, I approach fellow musicians who I think might work for a particular song.  As it happens, John's voice, bass playing, and occasional drumming all work very well!  From time to time, I ask other people to participate as well. So far the response has been tremendous.  Unless they were super busy, everyone has been very keen on the projects. 
What's the secret of the chemistry between you and John? 
ROB: We've been playing together in some band or another for over 30 years now.  Even when bands broke up we'd soon find ourselves starting up another.  I feel that we are very similar in a lot of ways.  As people we are generally easy going, but we take our music very seriously.  That combination is more rare than you'd think.  Typically, musicians are either driven and a-holes, laid back and lazy, or just plain crazy.  Come to think of it, all musicians are crazy. 
JOHN: I've worked with Rob since around 1991 or 1992 and we haven't beaten up or killed each other (yet) LOL! Seriously, though, we work very well together. I think the secret of the chemistry is mutual respect and openness towards musical ideas and creative input, as well as an understanding that we are working towards the best possible arrangements, performances, and productions.
Could you tell me something about the prog/metal trilogy formed by Mouse In A Maze, Private Life and Suspended Animation? When and how did you start thinking about those songs? 
ROB: It was only after I had finished the three songs back to back that I realized that they all shared some commonalities: all from the same era and rock songs with a progressive edge to them.  In terms of order they go from least to best known I think. 
The Monks was a British band that was a reaction against the punk movement of the seventies.  Suspended Animation was the title track off their 2nd album.  I only found out after I had released my cover that the album was only released in Canada.  I wonder if there are a lot of people who don't realize that my song is a cover! 
Oingo Boingo was a band that, although inherently weird, were on a few movie soundtracks.  They also had a huge cult following, so were fairly well known. 
Saga was a Canadian band that has been around for over forty years now.  Mouse In a Maze was not a hit, but what a great song! I sent a copy to Michael Sadler, their vocalist. He said that it was "well done" and "intense". 
And what about your future plans? Will you still continue to work in the same direction or are you thinking about new genres or currencies? 
ROB: While continuing to play with Ivory Knight, I plan to keep churning out a steady mix of covers and originals.  In fact, I'm mixing one of each right now.  Both songs feature John on vocals, bass, and even drums!  The original is a prog metal opus and the cover is a 60's song that I think will surprise a lot of people.  It's a band that I grew up listening to and still enjoy to this day.  They didn't always get the respect they deserved, but this song will prove once again that their music was on par with any band of the day. 
Also, I have a video for Suspended Animation in the works that's going to be quite different from my previous lyric videos. 
Thank you so much and greetings from Italy! 
ROB: Thanks so much for having us! 
JOHN: Thanks again, and greetings from us here in Ottawa, Canada to you, your family and friends, and to all your readers! Take care. Rock on!